There are some visual novels that make a reader laugh because they're incredibly funny. There are some visual novels that make the reader laugh because the writing or characters are so bad that they're unitentionally funny. And then there are some visual novels that never make the reader laugh because said reader is too busy cringing as they try to bungle their way through the story, wondering why on god's green earth this VN is even a thing. Bionic Heart is one of those that falls into the third category, and trying to decide where to start with a review of it is like trying to figure out which train car you want to start pulling dead bodies out of after a major flaming derailment.
Bionic Heart follows the life of Luke Black, a technician who works at Nanotech to produce nanotechnology (yes, that's really how the game chose to introduce him) alongside his only friend and coworker, Tom. He lives in post-apocalyptic London, where it is always raining (not entirely sure how that differs from the present-day city). He's currently dating Helen, a woman he's been engaged to for 10 years who would really like to get married before another 10 years pass. One night, a mysterious robot girl named Tanya appears at the door with half her face torn off to reveal the robotic bits underneath. She forces her way into the home and threatens to kill Luke if he doesn't help her (while simultaneously refusing to say exactly what she needs or why his help specifically is required). And in case you were wondering, yes, she is a possible love interest in this game.
The backgrounds are okay, but pretty basic if I'm being honest. The CGs in your gallery are just backgrounds with zoomed-in sprites on them. The sprites themselves are just plain lazy. To save time and effort, the artist used the same sprite over and over again but just plastered on a different facial expression. This means that happy Tom, worried Tom, and sad Tom all have the same pose, which just makes the characters seem very unemotional overall. The girls at least had two or three sprites, but these sprites were awful in their own right. I remember looking at the statue of the Venus de Milo as someone pointed out that I was clearly not looking at a female body, but a thin male's body with boobs grafted on. That is what the girl sprites in Bionic Heart look like.
The relationship mechanic with the people around you is the same as it is in any Winter Wolves game: you have two (sometimes three) dialogue options, wherein picking the right one earns you positive points on the relationship meter (which pops up after you make your choice) and picking the wrong one loses you points. Honestly, if you quicksave before every choice you'll have no problem making sure that the right answers are always selected. Personally, I prefer the games where you don't know right away which option is correct, and have to make an educated guess based on what you've learned about the characters so far. You know, like what proper dating sims do?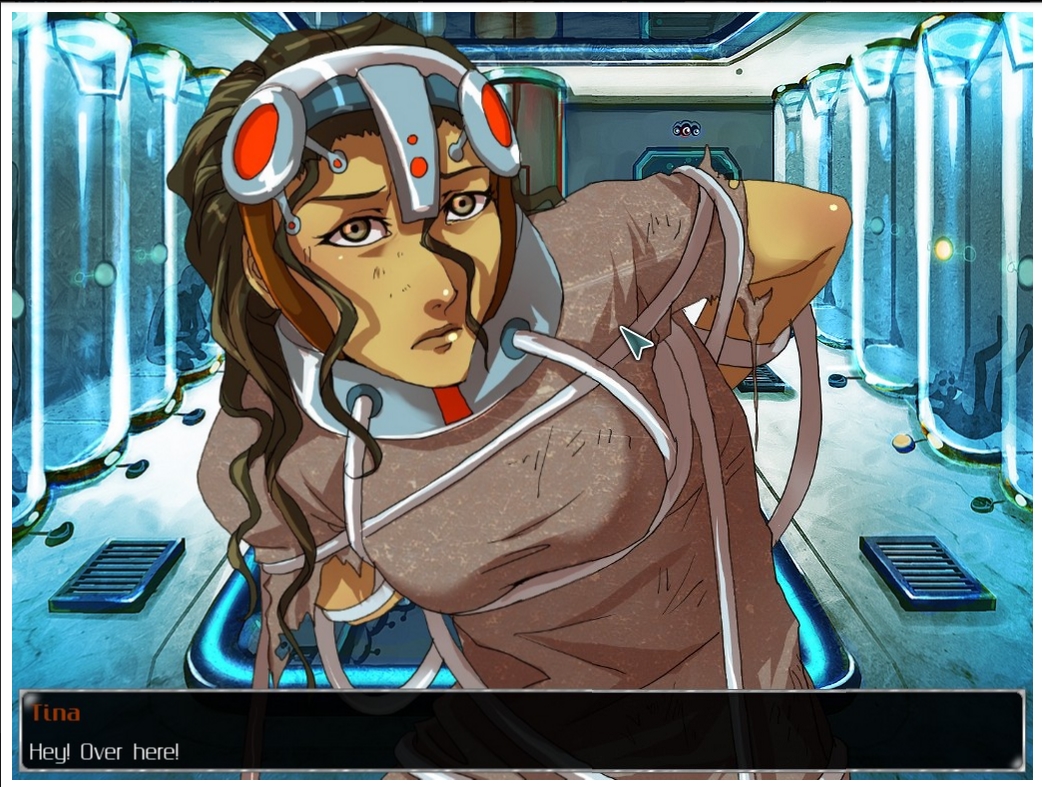 Onto the plot and writing now. I have never been so barely invested in a story since I read Sepia Tears, and that was a free VN that may or may not have been the writer's first foray into the field, I can't recall for sure. So basically they had an excuse. Bionic Heart does not have an excuse for poor writing with grammar mistakes or its extremely weak plot. Luke is inexplicably attracted to Tanya and dreams about her constantly, despite the fact that she seriously threatens to kill him at least once a day. He's suddenly moved to the biotics section of his workplace because plot and is able to figure out in a day an issue that's been eluding his superior for months. Global warming wiped out food supplies and now everyone including Luke's talking cat eats flavored mousse. Also evil corporation is evil, but that was such an obvious twist even Stevie Wonder saw it coming. Why is any of this even a thing? I'll admit that I started to find the story funny on my fifth run through, but that was more a commentary on the strength of the whiskey I took just to keep playing this game than a suggestion that the game gets better. It doesn't.
Now for the options menu. My god, what a mess. Why do they even have a voice or music volume setting if there's no voice acting and the music is only there 10% of the time, if that? You have to play in windowed mode, and yes, your mouse can escape the bounds of the game screen. Also, unlike other games that let you hold down spacebar to skip through read text, Bionic Heart will make you click through each line of awkwardly written dialogue again, and again, and again. The nicest thing I can say about the game from a technical standpoint is that you can safely run it without crashing, in my experience.
This is not a good romance story. This is not a good sci-fi story. Apparently the game has 20+ endings, but you know what? In order for that to be a selling point for your visual novel, the rest of the story has to be so good that I want to go back through and play it again and again until I get all those endings. And by the time I'd unlocked ending number five, I was done with this game.
I don't know where Bionic Heart is being sold right now, or for how much. I'm not going to make any effort to seek out that information either, because that might lead some of you to think that purchasing this game is a good idea. I picked up Bionic Heart for pennies in a Humble Bundle, and frankly I feel guilty for giving Winter Wolves even that much money. Don't buy this game, don't look for this game, and if you fail to heed my warning, buy it and come out as disappointed as I was by Bionic Heart, you have no one but yourself to blame. It's bad, guys. Really bad.